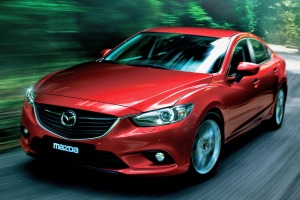 Having a couple of well-established automobiles ruling the midsize sedan segment, and various pleasant rivals attempting to unseat them, it's difficult for just about any particular vehicle to stick out. However the Mazda 6 has something most rivals don't: charisma.

In Edmunds reviews, we recognized the initial Mazda 6 because of its edgy, handsome design and classy if somewhat low-budget interior. Much more impressive were its communicative steering and tight suspension. We loved its three available body styles. Some rivals offered merely a sedan body, the 6 was furthermore like a flexible (and remarkably well-disguised) four-door hatchback or perhaps a stylish wagon. Mixing the Mazda 6's natural goodness with cavernous cargo areas, both hatchback and wagon were fun-to-drive and sensible options with other sedans as well as Sports utility vehicles.

There have been a number of changes designed to the very first-generation Mazda 6 through the years. In 2005, a six-speed automatic changed 5-speed unit on V6 models. For 2006, four-cylinder cars received a better five-speed automatic instead of that old four-speed, and all sorts of Mazda 6 models were treated to minor styling updates. The '06 models in addition to '07s also achieved positive results from additional security features being made standard. Very little transformed with this generation's final year, though Mazda stopped the wagon body style.

Our enthusiast editors particularly loved the Mazdaspeed 6, a turbocharged, all-wheel-drive variant from the Mazda 6 sedan which was only offered in the year 2006 and 2007. Boasting 278 hewlett packard, a six-speed stick shift and sports-vehicle-like handling, this European-style sedan shipped great driving excitement but sadly did not become popular with American customers. Like a used vehicle, though, it is a compelling package for individuals with an excuse for speed, as well as all-wheel-drive traction.