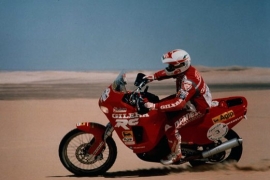 The RC 750 Desert Racer has been created by Gilera for just 3 years, between 1990 and 1993.

Manufactured at the outset of the 90's, the RC 600R were built with a liquid cooled, four stroke, single cylinder, 558cc engine that could develop 53 horsepower at 7800rpm along with a torque of 49 Nm at 5750rpm.

Gilera RCR 50cc is capable of doing supplying a real on/off-road experience, many individuals thinking about that it's the perfect vehicle for individuals searching to begin their biking career.

Constructed from 1987 to 1993, the RC 125 could develop 24 horsepower at 9250rpm and may run having a top speed of 135 km/h.